We all have those shady spots in our homes that we'd like to cover up with vibrant colours, and you probably tried some paint on the walls with little or no improvement.
Or, how do you cope with poor soil in your yard and a yearning for gardening?
The answer friends, is container gardening! Really, it's that simple! Or maybe not. Seeing as most modern homes do not have the required space for gardening.
Okay. You've succeeded in telling yourself why container gardening might not be ideal for you. Here's one more:
There are so many varieties of planters to choose from- moulded ones, DIYs, ceramics, plastics and so on. They come in several sizes; large, medium, small and each of them has endless possibilities attached to them.
And you have absolutely no clue where to start.
Seriously, give container gardening a try.
As you might have found out(or maybe you are about to find out), the most important tip to know when it comes to container gardening is to make sure there is a good drainage system for your plants. You have to make sure that there is a hole in the bottom of your pot so your plants don't end up drowning.
Another tip you want to hold tightly to is that you must understand the plants you have chosen to beautify your porch- you should have a good conversation with the people at nursery so as to be able to determine if your plant can thrive well in the shade or in full sun.
To help you in selecting the right plants for your container garden, we have highlighted 9 great plants you would absolutely love to see in your planter;
1. Bougainvillaea
We love us some hardy plants!
This is the perfect plant relationship for people too busy to tend to their plants regularly. Your container garden is not complete without this immensely versatile and showy plant that makes everywhere abundantly colourful.
Seriously if you don't have growing space or live in a suitable climate, you can plan your bougainvillaea in a pot.
Some care tips for you:
Over-watering can cause rot and weakening of the plants
A fertilizer high in potassium will produce extensive colourful blooms.
Bougainvillaea, a tropical plant, thrives in full sun, at least 5 hours a day of direct sunlight is required for good bloom, the more is better.
2. Anthuriums
The red, heart-shaped flower of Anthuriums are breathtaking
What's even more amazing is that you can grow this plants easily using your containers.
Proper anthurium care is easy; for the most part, you only need to address two basic factors to keep your anthurium plants healthy and you only need to avoid making three deadly mistakes to ensure that they stay alive.
Two basic factors to make your plants healthy
You have to be sure that your plant is never put in a location that freezes.
Water your plants carefully while at the same time allowing their roots to receive air.
Three deadly mistakes to avoid
Too much light and your plants will burn. Too little light and your plants will be stunted. The key is to strike a good balance between these two extremes.
Always make sure that all excess water is allowed to drain away from the roots of your plant to avoid root rot
Forgetting to water your anthurium plant is guaranteed to kill them.
3. Orchids
Here's something you should know: Orchids can survive up to 100 years!
Except for areas with extreme hot or cold weather, Orchids practically grow everywhere in the world and scientist are discovering more new species as days go by!
Planting orchids can be a bit daunting but below are conditions in which they thrive excellently:
Strong light, but not direct late-afternoon sunlight
High humidity
Adequate  airflow around the roots
Tip: The first step with your store-bought orchid is to enjoy the bloom. Don't repot your plant until the bloom is done.
4.   Begonia
Begonias of course. They are quite versatile as they have so many varieties. They are exceptionally showy in their variety of leaf shapes and diverse colours. You'll probably love the orange and white ones the best.
They do really well in containers but should be made to avoid excess water. They can survive well in a partially shady situation.
5.   Roses
We all know that nothing quite beats beautiful roses lighting up the lawn. However, roses perform quite well also in the container, especially the shrub varieties.
Some of the newer varieties also boast of being disease resistant and this absolutely means less work for you if you choose to plant roses. They also do well in the sun.
6. Ravenala
At first glance, ravenala reminds you of a tall regal peacock.
Imagine waking up to that sight every single day. That's 365 guaranteed smiles for you every year.
When planting, ensure to position your container close to the sun or in a semi-shaded location. Ravenala likes sandy soils and clayey soils. Good drainage is also very important! To cap it off, no special care is required to take care of the ravenala plant. So enjoy!
7.   Coleus
These drought-resistant trailing flowers are a huge pollinator magnet for butterflies, bees and hummingbirds.
Check with your nursery to know where is best suitable to plant them; shade, or sun. They also boast of some upright varieties that come in so many colours.
8.  Hosta
Hostas make for beautiful architectural plants, and they absolutely do well in planters. You could decide to combine them with some other foliage plants such as heucheras to get a great display.

To care for your hostas
Plant them at the same soil level as in the pot.
Keep the soil moist but not wet.
Remove flower stalks after bloom to encourage new growth.
Clean up around the plants and remove brown leaves in the fall to help control diseases and slugs.
9. Cacti
How about spicing up your container garden with some cacti?
Cacti can come in blue, green, orange, pink, purple and red colours. Talk about a healthy mix of happiness!
So ready to plant some? See some tips below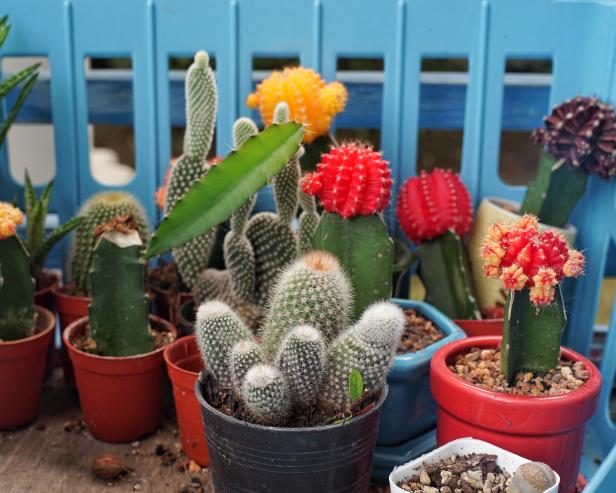 While growing your cacti, give the soil a good soaking, so that water runs out of the 'drainage holes' of the pots.
When your plant is getting too much light, it can be unhealthy. The cacti can take on a bleached outlook or even turn yellow. So it's very important to try to strike some balance. Not too little but not too much sunlight
Try to repot your plants every year so that you can provide them with fresh soil, inspect and address problems with their root systems, and move them to bigger pots if necessary.
With containers for gardening, you are sure to make wild impressions.
Whether you decide to go for the large types or small ones are entirely up to your taste and preference. But you need to do the choosing rather carefully. Also, spend time coordinating your plants and plant them as skillfully as you can.
Afterall, we have some dark areas to light up